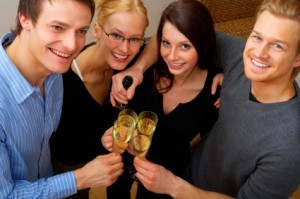 What Types of Wine Can I Make?
Choose from our award-winning wine list. Each batch (a 6 gallon carboy) makes between 28-30 bottles of wine.
When Can I Make My Wine?
We make wine on Saturdays, 12pm – 7pm,  Sundays, 12pm – 4pm, and Fridays from 4pm – 7:30pm.
How Much Room Do You Have?
Our tasting room at Lakeland Winery has enough seating for 30 people.
I'm Ready, How Do I Get Started?
What Happens When I Arrive at My Appointment?
We'll have you select and sample from more than 35 wine varieties. We encourage you to bring your own snacks to enjoy while you are sampling the wines.
After you choose your favorite wine, the fun of custom winemaking begins! We'll take you into our winemaking room — and start making your wine. Watch the Five Steps to Winemaking on our How-To page.
What Happens After My Appointment?
After seven weeks, come back for more education and fun as you bottle, cork, label your custom-made wine. Custom labels are available for purchase.
Fruit wines are ready to drink immediately, white wines take 3-6 months to age, and reds take 6-12 months to age.
We look forward to meeting you, and we always have a good time. You and your party get significantly reduced wholesale prices if you make three batches of wine.
Anything Else I Should Know?
Groups, couples and individuals come in almost every day during the busy season to make their own wine. It's fun, educational, and easy! Make it a fun night out with family, friends or colleagues. Celebrate birthdays, anniversaries or family gatherings.
Try something different, take a chance and learn something new—enjoy life with your very own wine.