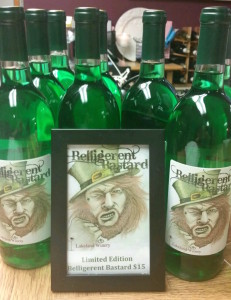 It's back! Belligerent Bastard, our crisp, New York Diamond white was mischievously tinted green by a leprechaun just in time for St. Patrick's Day, and it's ready for you! Stock up before it's gone.
At Lakeland, we've been celebrating the Bastard's return, and we tipped our hats to the holiday with the Belligerent Bastard Bash on March 1.
We had a raucously good time with live music, good friends and great food. Butternut Creek Revival entertained us with their awesome acoustic folk rock. We chowed down on Lakeland Winery foodie Kathie Lilley's Scotch eggs, mini meat pies and Reuben dip. Nothin' Fancy Fudge, sold exclusively at Lakeland Winery, premiered its out-of-this- world fudge. Oh yeah, we also drank some wine.
Thanks to everyone for coming out and making this event at Lakeland such a blast!
In case you missed it, here are some great moments from the Bash:
Butternut Creek Revival's acoustic folk was perfect for a St. Paddy's Day bash.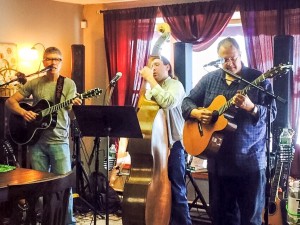 Nothin' Fancy Fudge!