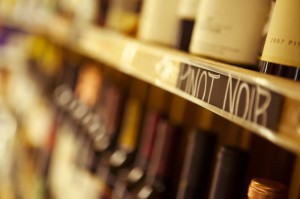 Serious wine drinkers keep their vintages in designated, temperature-controlled places and so should you. Once you have more wine than just the few you bought for a dinner party, and especially when you make your very own, it's time to make those wines last and age to perfection with your own wine cellar.
But don't worry — a wine cellar doesn't have to be subterranean. There's no need to clean out the cobwebs in your basement if you don't want to. You don't need to install an expensive, temperature-controlled vault. And, you don't even need a large amount of space. Â All you need is a designated place in your home that gets no direct sunlight, and stays at a constant and relatively cool temperature. You can even use the back of a closet for a wine rack.
Here are some tips on creating your own wine storage space:
1. Wine doesn't rot, but if not stored carefully, the taste will, um, not be so great.
2. Store wine in a space not subject to extreme temperatures. So you know, keep wine out of the bathroom, the sun room in July or an igloo in Antarctica. Experts say the best temperature for wine is between 50 F and 65 F.
3. So what's the deal with humidity? Some humidity is good because it keeps the corks from drying out. You also want to protect labels from peeling or drying out so 30 years from now that vintage will look as lovely as ever. If possible, a place where humidity is between 50 and 80 percent works best.
4. Wine racks are good as long as you keep wines on their sides to keep the corks wet and to prevent too much oxygen from getting into the bottle.
5. How you organize your bottles and where you end up keeping them really depends on your favorite wines. Personally, I'm a bit of a Riesling snob. Rieslings need to be kept at cooler temperatures, so you might want to keep those on hand in a wine cooler stored in your kitchen — or by the couch. It's wherever you need your wine.
6. If you're looking for wine racks, we have some great deals right now at Lakeland Winery. Hint hint: A wine rack makes for an excellent holiday gift. Contact Christina at Christina@lakelandwinery.com for more details or just come to the winery.