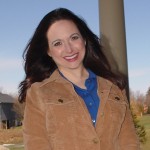 Pittsford native Cynthia Kolko, following the release of her first novel, "Fruit of the Vine," will visit Lakeland Winery from 1-3pm on July 9, 2011. Attendees will be able to meet the author, get signed copies of the book and chat about wine and the Finger Lakes. Books are $14.95 and will be available for purchase at Lakeland Winery and can also be purchased through Barnes & Noble, Amazon and www.cynthiakolko.com.
The book is set in the 1990s in the fictional Finger Lakes town of Sawhorn, NY. The story finds its roots in Kolko's heritage, her admiration for the people of wine country, and in her own rich imagination. Jem, a young vineyard worker, finds himself torn between tradition and progress in the small town. At its center is the conflict of nature versus nurture: "The main character, Jem, has it in the heart of his struggles," explains Kolko, "In a sense, wine is an expression of nature and nurture as well. It's the result of what nature makes and what people cultivate."
Growing up surrounded by wine aficionados and appreciating the beauty of the Finger Lakes led Kolko to set her first novel in the region. "I've traveled to numerous wine-growing regions in several countries; the Finger Lakes region is as majestic as any of them and the wine is in the same league," says Kolko. "Yet, my enjoyment of wine country stems not so much from what's in the glass, though I enjoy that very much, but from the small pieces that make up the experience, the parts that aren't so obvious. I inserted the quirky types of characters I like to read about into that backdrop."
Readers can connect with Kolko on her website, www.cynthiakolko.com, the book's Facebook page at www.facebook.com/FruitoftheVine, and Cynthia's Twitter feed at www.Twitter.com/CynthiaKolko.
About the Author
Cynthia Kolko graduated from Hamilton College with a bachelor's degree in English. She has worked as a corporate, advertising and editorial writer, and as a broadcast scriptwriter. Her writing has been published in many periodicals including P.R. Journal, How, Interactivity, Progressive Railroading, Rochester Business Journal, and the Democrat and Chronicle. Kolko lives with her husband and two children in her hometown of Pittsford, NY.