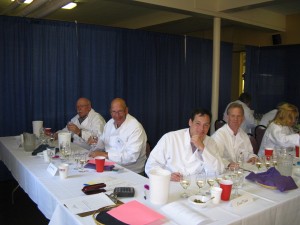 This year will be a huge success and adventure for newbies at the New York State Fair Home Winemaking Competition. As this year's new organizing official for the competition, I am encouraging everyone who has ever made wine at Lakeland Winery to enter a bottle of their wine. You may bring in a 750ml bottle and I will transfer it into the required two bottles, using two 375ml bottles (FREE).
Use this link below to download the application, and get your wine to me by the new deadline of August 13th. I will be available Monday and Tuesday for drop off at Lakeland Winery. The competition date is August 17th. The fee is only $10.00 each entry, and you are SURE to win a beautiful gold, silver or bronze medal. We need Volunteers!
Cut and Paste this link: http://www.nysfair.org/docs/entry/Home-Wine-Entry-Form.pdf
To Summarize:
Home Wine Submittal Deadline: August 13, 2008
Log-in and set up Date & Time: August 16, 2008
Volunteers: please arrive at the Art and Home Center at 9:00 AM.
Home Wine Competition Date: August 17, 2008
Volunteers: please arrive at the Art and Home Center at 7:30 AM.
Lunch provided to all volunteers.
Awards Ceremony: August 22, 2008 at Noon
Two 375ml entry bottles of wine may be substituted for two 750ml bottles.
If you have any questions, please call Andy at (315)572-4763 (cell phone)
Mail by UPS to: Agriculture Suite, 581 State Fair Blvd., Syracuse, NY 13209