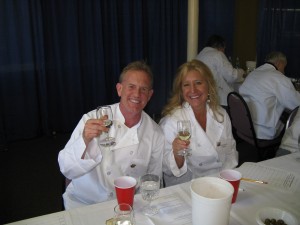 I was recently asked to Judge the NYS Fair commercial Wine Competition last Saturday. This definitely was a day to remember – tasting and spitting; tasting and spitting, all day long. Of course, I had never experienced this before…usually I drink my wine. But seriously, there were some VERY good wines from all over the State. One thing I was thinking as I sampled the many different wines, "my own wines would win medals at this competition". And I plan on entering some of them next year. Wish me luck:)
NEW YORK STATE FAIR COMMERCIAL WINE COMPETITION-2008
The committee was pleased to have 20 wineries entering for the first time.  There were 67 wineries entering a total of 437 wines.  On Saturday, June 21, 2008, twenty four judges from the east coast manned six panels to taste wines representing all seven wine producing regions of the Empire State.  The judges were selected on their knowledge of wines made from cold climate grapes.  The judging panels were representative of professionals in publishing, education, distributing, sales, restaurants, broadcasting, advertising, wine making, consulting and journalism.
Nearly every winery won an award.  There were 19 Double Gold awards given as well as 26 Gold, 133 Silver, and 161 Bronze.  The Best of Show "Blue Ribbon Award" went to Long Point Winery for their 2004 Long Point Cabernet Sauvignon.  This same wine took Best of Category-Red Wine.  In addition, Goose Watch Winery's NV(non vintage) Snow Goose won Best of Category for White Wine.  The Best Sparkling Wine award went to Swedish Hill Winery for their NV Blanc de Blanc.  Hunt Country Vineyards won Best of Category Dessert Wine for their 2006 Vidal Blanc Ice Wine, Estate Bottled.  The Best of Category for Fortified Wine went to a first time entrant, Hudson-Chatham Winery for their NV Paperbirch Raspberry Fine Ruby. The Best of Category Fruit Wine was Torrey Ridge's NV Scarlet Red.   Penguin Bay was awarded Best of Rosé/Blush with their 2007 Rosé of Chambourcin. As examples of consistency in winemaking, as well as judging, these last two wineries won the same awards in 2007.  A complete list of all the winners can be found online at www.nysfair.org/competitions.
A crew of 14 dedicated volunteers worked hard to keep up with the washing and polishing of glasses, pouring and serving the wines, and data entry of the wine scores, all while maintaining the integrity of a totally blind judging.  The State Fair Entry Department was notified of the results at the conclusion of the competition.
The committee was especially pleased with the 37 awards won by wineries that had entered for the first time.  Several judges commented on the high quality of wines entered this year.  We are excited that our competition continues to grow and improve.  We wish to express our thanks to all who participated and our congratulations go out to all the award winners.
Fairgoers can view the top award winning wines, which will be on display in the "Giant Wine Bottle" in the Horticulture building during the fair.  Samples of wines entered in the competition are available to fairgoers following most of presentations in the Demonstration Kitchen in the lower level of the Arts and Home Center.  Again, volunteers will be on hand to serve wine and answer questions.