Welcome to our news room where you'll find television appearances by owner and head winemaker, Andy Watkins, and published newspaper articles featuring Lakeland Winery.
Magazine Features
Syracuse Woman Magazine, April 2012 issue, pg. 45
Press Releases
Released June 13, 2012 on alzcny.org: Alzheimer's Association of Central New York: Chapter Partners with Lakeland Winery for Summer 2012
The Alzheimer's Association, Central New York Chapter has partnered with Lakeland Winery on a unique partnership to raise awareness and funds for the Chapter's work. Lakeland Winery will donate $2 from the sale of their most popular wines to the Chapter.
(From left): Movin 100.3/96.5 personality Heather, Christina Hodges of Lakeland Winery, and Chapter CEO Cathy James announce the partnership between the Chapter and the Winery.
"Many people recognize that Alzheimer's disease is a major public health issue," Catherine James, chief executive officer for the Alzheimer's Association, Central New York Chapter, said. "Corporate partnerships such as this one helps us grow awareness for the disease and our services, and raises the level of conversation in the public. We're proud of this new relationship with Lakeland Winery."
From now until September 30, Lakeland Winery will donate $2 from the sale of each 750 mL bottle of Pleasantly Pomegranate and Wild Blueberry to the Chapter. Bottles are $12 each and can be purchased at its retail store, 877 State Fair Blvd., Syracuse, or online at lakelandwinery.com.
Lakeland Winery, founded in 2005 by Syracuse resident Andy Watkins, was the first custom winemaking facility in New York. In addition to its retail sales, Lakeland sells winemaking kits for individuals or groups to make and bottle their own custom wines on the premises.
Video
Lakeland Winery on the WSTM Early Morning News July 17, 2012
Lakeland Winery on Bridge Street with Rick and Julie Nov 2008
Lakeland Winery on Bridge Street with Rick and Julie
Lakeland Winery on WCNY's Food for Thought with George Kilpatrick
Newspaper Articles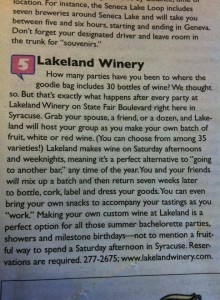 The Lakeland Winery write up in the Syracuse New Times from June 2013
Grape Expectations
Published in the Syracuse NewTimes on December 7th, 2005
Just in time for holiday gift giving comes an unusual way to remember the wine lover in your midst. Lakeland Winery, 877 State Fair Blvd., Lakeland, is slated to open Monday, Dec. 12. Patrons can visit the store to either make their own wine or to purchase wine that owner Andrew Watkins has brewed.
"I got the idea for this when I went to my brother's house in Canada; I drank some of his homemade wine and my first impression was that I've never tasted anything like this before," Watkins says. "Plus I like to make my own wine."
Watkins had been making his vintage at Vine to Wine, the first on-premise winemaking business in New York state. Last spring the owner told him he was selling the place and that he wouldn't be able to make wine there anymore. "I didn't want to do it alone in my basement," Watkins says, "It's nice to have other people around." So he purchased the business.
There are three methods of obtaining the major ingredient for making wine: grapes, available in the fall; juice, available in the fall and spring; and concentrate kits, available year-round. Visitors to Lakeland Winery will be able to purchase kits, then the winemaking can begin. "We have more than 100 varieties," Watkins notes, "and the price range for a 30-bottle kit is $160 to $300. That includes everything: bottles, corks, labels, dressing on the bottle."
After the wine is made it ferments at Watkins' store for six to eight weeks, and then it should be taken home to age in a cool basement for at least six months. "What comes out, the taste, is like they've never tasted before. In fact, I'm guaranteeing money back if people are not happy with their wine." If you don't have a basement space to age your wine Watkins will rent a corner of his 3,000-bottle capacity wine cellar.
Watkins, an engineer by profession, has already hired Renee Paone to be Lakeland Winery's managing winemaker; she'll help people make wine and manage the day-to-day operations of the store. He intends to start winemaking classes for young professionals and senior citizens and hold team-building events for business.
"The person I am buying this business from has an active list of 250 customers," Watkins notes. "So I will be starting with people who are already seasoned in winemaking. But I would also like to invite people who have never thought about it before. There is no place like this in Syracuse."
Contact Lakeland Winery at (315) 277-2675 (CORK).